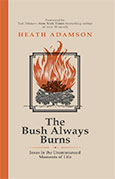 Price:

$ 10.00

Was: $12.99
Special Event Price – Limited Time Only!
eBook version $1.99 – Limited Time Only!
Overview
The Bush Always Burns: Jesus in the Unannounced Moments of Life
by Heath Adamson

The Bush Always Burns introduces a Jesus all of us can seek, find, and trust in moments that are bright and moments that are dark. Heath Adamson takes us back in time to meet an undesirable character from his youth: him at age seventeen. Adamson grew up knowing a little bit about the occult, too much about drugs, and almost nothing about God. If you find yourself struggling to know your heavenly Father the way Heath did, The Bush Always Burns offers strength and solace for today. It is a life-giving reminder that Jesus is (and always has been) waiting for us to turn and see that the bush always burns and the ground is always sacred. His power is constantly available to us if we want it. This is the first title in a series of three releases from this author.


Product Details
Format: hardcover
Pages: 208
Size: 5½ x 8½
ISBN: 9781680660005
Pub. Date: March 2015


Meet the Author
At the age of seventeen, Heath Adamson's life was dramatically transformed by an encounter with Jesus. Steeped in drug abuse and the occult, he came to believe in Christ for salvation. Heath's dramatic salvation experience has led him to serve in multiple leadership roles with global influence. He is intrinsically involved with the World Evangelical Alliance Youth Commission and chairs Empowered 21's Next Generation Network, in addition to serving as a national leader for a ministry serving more than half a million students. He holds an MA in leadership from Evangel University and is a PhD candidate in religious studies at Chester University. Heath and his wife, Ali, and two daughters currently reside in Springfield, Missouri. Together they endeavor to leave a legacy for generations to come.