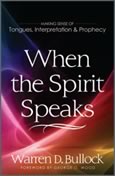 Price:

$ 5.99
Quantity pricing available.
by Warren D. Bullock

Want more of the Spirit in your church?

Tap into the power God imparts to your congregation through spiritual vocal gifts/tongues, interpretation, and prophecy. This contemporary, relevant guide helps you provide Pentecostal leadership for orderly functioning of the gifts in your church services so you can

- Encourage vocal gifts in your church
- Maintain balance between structure and spontaneity
- Lead and instruct your congregation knowledgeably
- Deal with gift misuses and abuses € Allow the Holy Spirit to empower your church to reach people for Christ

Paper. 96 pages.