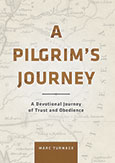 Price:

$ 14.99
Quantity pricing available.
Overview
A Pilgrim's Journey: A Devotional Journey of Trust and Obedience
by Marc Turnage

Christians throughout history have framed their understanding of the Bible within the context of their own culture—but the world of Jesus is not our world.

A Pilgrim's Journey by Marc Turnage will help you explore the people, places, and events of the Bible in their real-world, historical contexts. This 30-day devotional can open the door to the time and culture of God's revelation, enabling Him to speak to you in new and fresh ways.

As you read the Bible through this lens, its message will bridge across time and space to transform how you live in the twenty-first century.


Product Details
Format: paperback
Pages: 176
Size: 5 x 7
ISBN: 9781680671155
Publisher: Salubris Resources
Pub. Date: January 12, 2016


Meet the Author
Marc Turnage is the director of the Center for Holy Lands Studies, a historic endeavor to educate ministers, educators, students, and laity of the Christian world in the physical, historical, and cultural settings of the Bible. He has served on the faculties of Missouri State University, Evangel University, Drury University, and the Assemblies of God Theological Seminary.