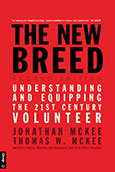 Overview
The New Breed: Understanding and Equipping the 21st Century Volunteer
by Jonathan McKee & Thomas McKee

Harness the passion and potential of today's volunteers—with results that uplift your goals and enable them. You'll discover how to frame your recruitment message, understand how the different generations are motivated, empower volunteers to "own" their projects, create a climate of teamwork, engage the passion of your volunteers, and more. Plus, you'll find job descriptions, applications, and interview questions; activities, icebreakers, and team-builders for volunteer meetings; community-building activities; plus, tips for board retreats and planning sessions.


Product Details
Format: paperback
Pages: 278
Size: 6 x 9
ISBN: 9780764486197
Pub. Date: September 2012


Table of Contents
The Common Predicament: Where It All Begins

SECTION ONE: The Volunteer Recruiter
1. Who Is the New Breed of Volunteer
2. Recruiting the New Breed of Volunteers
3. Finding the New Breed of Volunteers (and Not Scaring Them Away)
4. Tapping Into Two New Breeds of Volunteers

SECTION TWO: The Volunteer Manager
5. Motivating the New Breed of Volunteers
6. Empowering Volunteers to Do It Their Way
7. Using a New Breed of Technology
8. Managing or Canning High-Maintenance Volunteers

SECTION THREE: The Volunteer Leader
9. Leading the Successful Volunteer Organization
10. Epilogue A Leadership Case Study

SECTION FOUR: Resources
Sample Position Charter
Sample Youth Ministry Volunteer Expectations
Sample Project Charter
Sample Youth Ministry Volunteer Application
Interview Guide for Hiring a Paid Volunteer Manager
Sample Youth Ministry Reference Form
Sample Questionnaire for Virtual Volunteers
Sample Board Code of Conduct
Strategic Planning Retreat—Agenda of Questions
SWOT Analysis Form
Icebreakers and Openers
Team-Building Activities
Sample Training Exercise—A Case Study: "Symptoms of Staff Resistance"

Endnotes