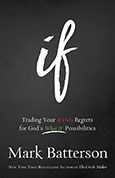 Overview
If: Trading Your If Only Regrets for God's What If Possibilities
by Mark Batterson

If is a powerful little word. Some people are stuck in "if only," trudging through lives marked with regret. But God wants us to live lives marked with possibilities, with the "what if" attitude that looks forward to the future with confidence. Why? Because the answer to "If God is for us, who can be against us?" is "No one." God is always on our side. Every day, in every way.

With his trademark enthusiasm and contagious joy, Mark Batterson helps readers overcome feelings of guilt, fear, and doubt because in Christ there is no condemnation. Unpacking the promises of Romans 8, he shows readers that they are more than conquerors--right now and forever. And because of that, the possibilities for their lives are limitless.

Christians from all walks of life will find themselves set free by this inspiring and entertaining read.


Reviews
"Finally, a book that shows you how and why we should all take the risks that lead to a life of genuine and faithful purpose."

Judah Smith, New York Times bestselling author of Jesus Is

"What if God really does want what's best for us? That's the intriguing question Mark Batterson encourages us to ask-- and it's the one that can change our whole lives."

David Green, CEO, Hobby Lobby

"From the first time I read a Mark Batterson book (In a Pit with a really long title, you know the one I'm talking about), I've loved the way he looks at life and faith. He doesn't say if only and settle for regret. He says what if and leans into adventure. Read this book and you will too!"

Jon Acuff, New York Times bestselling author of Do Over: Rescue Monday, Reinvent Your Work, and Never Get Stuck


Product Details
Format: hardcover
Pages: 304
Size: 5½ x 8½
ISBN: 9780801016004
Pub. Date: October 2015


Meet the Author
Mark Batterson is the New York Times bestselling author of The Circle Maker, The Grave Robber, A Trip around the Sun, and If. He is the lead pastor of National Community Church, one church with seven campuses in Washington, DC. Mark has a doctor of ministry degree from Regent University and lives on Capitol Hill with his wife, Lora, and their three children. Learn more at www.markbatterson.com.