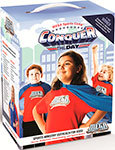 Limited Time Offer!
Free Standard Shipping
within the continental U.S.
Offer expires February 4, 2017.
Overview
MEGA Sports Camp® Conquer the Day Starter Kit
Looking for an easy, effective way to reach kids in your community? With a
MEGA Sports Camp
outreach, churches have up to 90 percent guests, many who do not regularly attend church anywhere.
MEGA Sports Camp® Conquer the Day
shows kids how to be superheroes through the choices they make every day in sports and in life. Through both sports stories and Bible stories about David, kids will discover how to practice with purpose, listen to leaders, remember to recharge, compete with courage, and skip the shortcuts. Fun music, MEGA mascot, sports training, and relationship-building small groups round out a great way to introduce kids to a God who loves them.
The flexible starter kit lets churches choose a VBS-like schedule or host their camp on days off school, summer Sunday School, or even as a back-to-school weekend. Choose as few or as many sports as you wish!
The starter kit includes:
playbooks for soccer, basketball, sports basics (preschool), and cheerleading
director guide with DVD and CD-ROM
rally guide for large group gatherings
coach huddle guide for small group time
art CD-ROM
music DVD and CD
product samples and more
Preschool to grade 6. Uses the NIV. Learn more at
MEGASportsCamp.com
.
Review
"I'm amazed at the number of people who have been impacted.
MEGA Sports Camp
outreaches have made a difference not only in the church but also in the community."
—
John Graham
, Alliston, Ontario, Canada, who has completed 11 years of
MEGA Sports Camp
outreaches
Product Details
Format:
kit (mixed media)
Size:
8¾ x 11¾ x 5¾
ISBN:
9781680679281
Publisher:
Salubris Resources
Pub. Date:
January 2, 2017