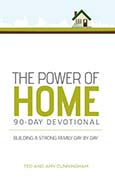 Overview
The Power of Home 90-Day Devotional: Building a strong family day by day
by Ted & Amy Cunningham
You and your family can take charge of your spiritual development! Based on the book
The Power of Home
, authors Ted and Amy Cunningham have created this 90-day devotional to help build strength and stability in your home. Your family will grow closer to each other and Jesus as you discuss important topics, including:
Marriage
Money
Communication
Anger
Forgiveness
Heaven
For a healthy family now and in the future, get this devotional and see how each member of your household can participate in the spiritual growth of your home. Pair with
The Power of Home
by Ted Cunningham for more in-depth study on your family's spiritual development.
Product Details
Format:
Paperback
Pages:
192
Size:
5½ x 8½
ISBN:
9781680670547
Publisher:
Salubris Resources
Pub. Date:
January 12, 2016
Meet the Author
Ted & Amy Cunningham
founded Woodland Hills Family Church in Branson, Missouri, in 2002. They met at Liberty University in 1995 and married the next year. They live in Branson with their two children, Corynn and Carson. Ted and Amy are coauthors of
Around the Family Table
. Ted is the author of
The Power of Home, Fun Loving You,
and
Trophy Child
and the coauthor of four books with Dr. Gary Smalley.
Disponible en inglés
El poder del hogar en 90 días de devocional