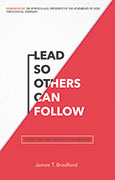 On backorder, will ship when available.
Price:

$ 12.99
Overview
Lead So Others Can Follow: 12 Practices and Principles for Ministry
by James T. Bradford
The spiritual climate in our world is changing. Some churches seem increasingly powerless against the rise of cultural secularism and moral relativism.
So how can you, as a leader, fight this oncoming tide and revitalize your church?
Lead So Others Can Follow
offers practical leadership advice in a simple yet compelling format. Author Jim Bradford offers a unique, hand-picked set of principles and practices gleaned in his thirty years of pastoral ministry such as:
How to develop a sustainable philosophy of leadership.
Practical tips on creating a Christ-honoring, people-centered ministry.
Sections on spirituality, strategies, and stamina and how to apply principles in your life and ministry.
Let this book help you face the challenge to keep spirituality and biblical principles hardwired into your leadership.
Also available in Spanish,
El líder que otros seguirán
.
Product Details
Format:
paperback
Pages:
144
Size:
5½ x 8½
ISBN:
9781680670738
Publisher:
Salubris Resources
Pub. Date:
September 1, 2015
Meet the Author
Dr. James T. Bradford
is author of
Preaching
and
Second Chronicles Seven:Fourteen
. He holds a PhD in aerospace engineering from the University of Minnesota. While in college, he led a Bible study that eventually grew into a university church. Upon graduation in 1979, Jim entered full-time ministry with that campus outreach. Since then, he has served growing faith- based communities in British Columbia, California, and Missouri. Currently he travels the world speaking on leadership and church growth in his role as general secretary of the Assemblies of God, which was recently recognized as the fourth-largest Christian movement in the world. He and his wife, Sandi, have two daughters and reside in Springfield, Missouri.
Table of Contents
Foreword
Introduction
SECTION ONE: Spirituality and Servanthood
  1. Core Commitments
  2. A Spiritual Center
  3. A Serving Identity
SECTION TWO: Strategies and Systems
  4. Oversight Role
  5. Strategic Process
  6. Staffing Criteria
SECTION THREE: Skills and Strengths
  7. Team Building
  8. Public Speaking
  9. Change Management
SECTION FOUR: Stamina and Stability
10. Physical Health
11. Emotional Resilience
12. Spiritual Prevailing
Endnotes
Acknowledgements
About the Author