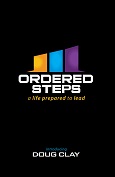 Price:

$ 5.99

MSRP: $9.99
Quantity pricing available.
Overview
Ordered Steps: A Life Prepared to Lead
by Doug Clay

Meet Doug Clay, Assemblies of God general superintendent, as his family and friends know him. Ordered Steps offers a revealing journey through the insights and perspectives of those who have known Doug best. As well, Doug shares his spiritual priorities and passions in his own words.

Doug's experiences remind us God sovereignly works circumstances for good in and through our lives. Tragedy in childhood, the spiritual strength of his family, and the nurturing care of his home church all worked together to bring Doug through extraordinary challenges early in life. Doug Clay's story is a telling illustration of the inspiring truth of divine providence—that God delights in the details of our lives, when we choose to let Him order our steps.