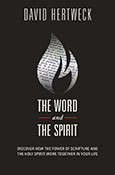 Overview
The Word and the Spirit: Discover How the Power of Scripture and the Holy Spirit Work Together in Your Life
by David Hertweck
Imagine this. One day you learn a bit of Bible teaching that alters reality as you know it. You hear there's a living person who brings dead hearts back to life. The Holy Spirit! You wonder, "Is this legit?" David Hertweck has the answer. As a knowledgeable Christian minister who works with youth and youth leaders on a daily basis, he could supply a quick response. Instead, Hertweck compels young men and women to embark on an exciting journey and find the answers on their own. He prompts youth to dive into the Bible. Interactive questions interspersed throughout the book entice young people to keep going while also helping them feel the thrill of personal discovery. As a special bonus, this book also shares insights from other youth. They too encountered faith questions and now know the Holy Spirit in an invigorating, personal, life-changing way.
Product Details
Format:
paperback
Pages:
152
Size:
5½ x 8½
ISBN:
9781607313946
Publisher:
Gospel Publishing House
Pub. Date:
September 22, 2015
Meet the Author
David Hertweck
is a New York youth ministry worker who is passionate about helping church youth workers create and sustain disciple-making environments marked by gospel fluency, Spirit dependency, and biblical community. He and his wife Erin have three daughters. They currently reside in Syracuse, New York.
Available in Spanish
La Palabra y el Espíritu

Table of Contents
Acknowledgements
Introduction: Using This Study Guide
1. The Word: What's the Point?
2. The Word Wakes Me
3. The Word Warns Me
4. The Word Wins Me
5. The Spirit
6. The Spirit Helps Me Know
7. The Spirit Helps Me Grow
8. The Spirit Helps Me Go
Endnotes
About the Author