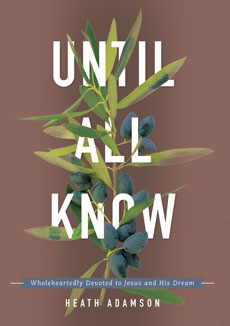 While Supplies Last
Price:

$ 5.00

MSRP: $9.99
Overview
Until All Know: Wholeheartedly Devoted to Jesus and His Dream
by Heath Adamson
A lot of people look at the dry spiritual climate of our world and feel like revival won't come again. Throughout history, revivals have always involved believers from every generation. But what if the next generation isn't ready to take its place in history?
In
Until All Know
, Heath Adamson asks,
What spiritual seeds are you planting in those around you?
Explore the importance of discipling students to be:
Gospel-centered
Spirit-empowered
Personally responsible for the mission of God
As you journey now is the time to prepare them to respond to the movement of the Spirit and take their place in His story.