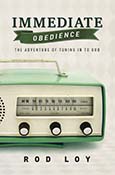 Overview
Immediate Obedience: The Adventure of Tuning in to God
by Rod Loy

Listen and obey: These words transformed Rod Loy's relationship with God. He wondered what would happen if he became more sensitive to the voice of God and immediately obeyed whatever God told him to do. Through his story, Rod describes the thrill and the challenge of walking hand in hand with the King of the universe.

God gives us specific assignments in the ordinary course of every day—even, and especially, in the mundane and the frustrating events. When we grasp that truth, every moment will become infused with the possibility that God may do something unexpected and spectacular at any moment.

Jesus delighted in doing the Father's will and showering His love on people. In the same way, when your heart is aligned with His, you'll delight in doing His will—fully and immediately—and seeing Him use you to touch the lives of those around you.

Get ready to hear God clearly and to obey immediately.
Product Details
Format: Paperback
Pages: 288
Size: 5.5 x 8.5
ISBN: 9781629121093
Publisher: Influence Resources
Pub. Date: September 2014
Meet the Author
Rod Loy has been in full-time ministry for twenty-eight years. He is currently the senior pastor of a 102-year-old church in North Little Rock, Arkansas. Under Rod's leadership, the church has grown to over 3,800 weekly attendance at six campuses. He is the author of 3 Questions: A Powerful Grid to Help You Live by the Grace of God, published in 2011.
Available in Spanish
Obediencia inmediata

What People Are Saying
"Inspiring . . . motivating . . . challenging . . . and practical! Rod's personal journey and insight moves me to listen better to God's heart so I can be His hands. Every believer needs to read this book to learn how to listen and obey—so simple and yet so difficult!"
—Pastor Darius Johnston, Lead Pastor, Christ Church Fort Worth, Fort Worth, TX