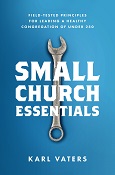 On backorder, will ship when available.
Price:

$ 12.99
Do you lead a small church?

Big churches get all the love. Articles, books, conferences—they mostly feature leaders of large congregations. Yet big churches are a small part of the ecclesial landscape. In fact, more than 90 percent of churches have fewer than 200 people. That means small churches play a big part in what God is doing.