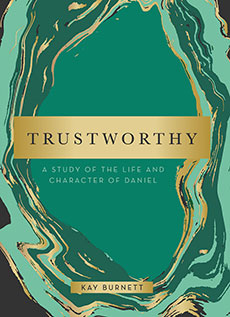 Price:

$ 14.99
Quantity pricing available.
Overview
Trustworthy: A Study of the Life and Character of Daniel
by Kay Burnett

Become the woman of integrity God designed you to be
As a woman striving to live a godly life, do you find today's culture anything but encouraging? Do you ever wonder if there's hope for those of us who want to seek and share the freedom that God's peace offers?

In Trustworthy: A Study of the Life and Character of Daniel, you'll discover how to face the challenges of the world and be encouraged to take up God's regal call on your life to walk in holiness and integrity. As someone who walks the same path you do, author Kay Burnett comes alongside you, sharing how lessons from Daniel's life connect to the struggles you face daily.

Daniel didn't cave in to despair and defeat at the hands of an ungodly culture, and you don't have to either. Embark on this study and answer God's call to be faithful and trustworthy, showing other believers the peace Jesus grants in an uncertain world.
Product Details
Format: Paperback
Pages: 168
Size: 7 x 9½
ISBN: 9781607316091
Publisher: Gospel Publishing House
Pub. Date: February 23, 2020
Meet the Author
Kay Burnett has served alongside her husband, Jim, in full-time ministry for more than twenty years—eight of those years serving as the Arizona Network Women's Ministries director. In 2016, she was appointed as the Assemblies of God National Women's Ministries director. Jim and Kay are the proud parents of a son and daughter-in-law, a daughter and son-in-law, and five grandchildren.