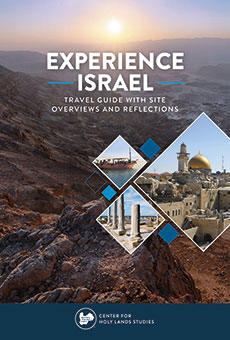 Price:

$ 19.99

MSRP: $23.99
Overview
Experience Israel: Travel Guide with Site Overviews and Reflections
by Center for Holy Lands Studies
For Christians, traveling to Israel is a life-changing experience.
Discover how this intriguing land, the Bible, and ancient and modern day culture all blend together. Whether it's your first trip or one of many, this guide will deepen your understanding of Israel and its rich heritage through in-depth descriptions of dozens of sites. You'll enjoy—
Full color photos, maps, and site overviews for every featured location
Biblical connections and Scripture references to show the spiritual significance
Personal reflections to encourage you to come home changed by God
Plus timelines, historical connections, and plenty of space for taking notes and capturing special memories
Whether you are traveling on your own or with a tour group, your journey will be enriched as you explore each site and allow God to transform how you read and understand His Word.
Product Details
Format: Spiral
Pages: 192
Size: 6½ x 9
ISBN: 9781680671889
Publisher: Salubris Resources
Pub. Date: January 2019
Meet the Authors
Amy Flattery, director of the Center for Holy Lands Studies, has a BA in Biblical Studies from Calvin College and has done postgraduate studies in Second Temple Period Judaism and the origins of Christianity. She is a credentialed minister. She and her husband, Dr. Mark Flattery, live in Springfield, Missouri.

Jeremy Stein, content development coordinator for the Center for Holy Lands Studies, holds BA degrees in Biblical Studies and Pastoral Ministry from Northpoint College and postgraduate studies in Ancient Judaism and the origins of Christianity at Nyack College. He is a licensed minister and has served as a pastor in the New York district of his church. He and his wife, Miriam, live in Springfield, Missouri.