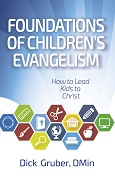 Overview
Foundations of Children's Evangelism: How to Lead Kids to Christ
by Dick Gruber

Are you eager to share the gospel of Jesus Christ with boys and girls? This book provides unique ideas, sound biblical theology, and resources for anyone who wants to reach children for Jesus. Based on hundreds of hours of research and many years of personal experience, Dick Gruber shares from his vast reservoir of knowledge and expertise to enable kids ministry leaders to reach children today.

Dr. Gruber shares practical ideas, programs, and ways to promote kids ministry, develop outreach events, and lead a child to Christ. While the material is not all inclusive, it is Bible-based and practical. As anyone who is involved in ministering to children knows, methods constantly evolve to meet the current cultural needs, yet the commission to reach boys and girls remains constant because God loves children.

Children still make up the largest, most reachable people group on planet earth. They need a lifelong relationship with loving adults who will continuously model Christian living for them. Let the practical yet deeply spiritual tools in this book motivate you to learn from children, who approach God with simple, genuine faith. Let these resources motivate you to teach and disciple boys and girls to become full-fledged members of the faith community.


Product Details
Format: paperback
Pages: 232
Size: 5½ x 8½
ISBN: 9781607314783
Publisher: Logion Press
Pub. Date: July 18, 2017


Meet the Author
Dick Gruber has been reaching and teaching children and their leaders since the spring of 1975. He has spent the past fifteen years serving as the professor of Children and Family Studies at the University of Valley Forge. Group Publishing named Dr. Gruber as one of the Top 20 Influencers in children's ministry in 2010. Gruber completed his Doctor of Ministry with the Assemblies of God Theological Seminary in 2015.


Table of Contents
Preface

SECTION 1—Research and Writings
  1. Introduction
  2. A Biblical Mandate
  3. Perspectives on Evangelism of Children
  4. A Practical Response
  5. Ethical Considerations When Giving Altar Calls to Children

SECTION 2—Practical Ideas, Programs, and Applications
  6. The Importance of Prayer in Evangelism
  7. The Importance of Prayer When Evangelizing Children
  8. Promoting Your Ministry
  9. Developing Evangelistic Events
10. Leading a Child to Christ
11. Leading Children Into the Baptism in the Holy Spirit

Appendix
  A. Why Bring the Gospel to Children
  B. Hallo-What?
  C. Jesus Blesses the Children
  D. Five Things Jesus Wants You to See in Children's Ministry
  E. Leading a Child to Christ
  F. Praying with Children to Receive the Holy Spirit
Sources Consulted
About the Author