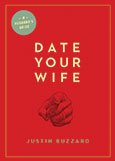 On backorder, will ship when available.
Price:

$ 10.99
Overview
Date Your Wife: A Husband's Guide
by Justin Buzzard

An intensely practical guide for husbands looking to strengthen, save or spice up their marriage. Buzzard helps men re-learn this all-important skill from a position of security in the gospel of grace. Date Your Wife offers 100 practical ideas for how to date your wife, action steps at the end of each chapter and personal stories and real-life examples.


Product Details
Format: paperback
Pages: 160
Size: 5 x 7
ISBN: 9781433531354
Publisher: Crossway
Pub. Date: June 30, 2012


Meet the Author
Justin Buzzard is founder and lead pastor of Garden City Church in Silicon Valley. Buzzard is the author of Date Your Wife, writes about culture and the church, speaks widely, and is part of the Acts 29 Church Planting Network. He resides in Silicon Valley with his wife, Taylor, and their three young sons.


Table of Contents
Forward by Tullian Tchividjian
Acknowledgments
Preface: Why You Should Read Want to Read This Book

PART 1: The Good
  1. How Your Marriage Started
  2. Who Invented Marriage, and Why?

PART 2: The Bad
  3. Where Marriages Go Wrong, Part I: The Husband
  4. Where Marriages Go Wrong, Part II: The Husband's Religion
  5. Where Marriages Go Wrong, Part III: The Husband's Action

PART 3: The New
  6. Where Marriages Go Right, Part I:The Husband
  7. Where Marriages Go Right, Part II:The Husband's Gospel
  8. Where Marriages Go Right, Part III:The Husband's Action
  9. A New Dream for Your Marriage
10. How to Date Your Wife: Develop the Air War
11. How to Date Your Wife: Develop the Ground War

PART 4: The Perfect
12. Date Your Wife until Death Do You Part

Afterword by Taylor Buzzard
Appendix
  1. Date Your Wife: One Hundred Ideas
  2. Date Your Wife: A Message from a Ninety-Year-Old Husband by Bob Mounce
Notes
General Index
Scripture Index