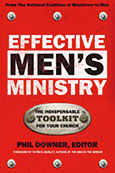 Overview
Effective Men's Ministry: The Indispensable Toolkit for Your Church
edited by Phil Downer
Developing and fine-tuning a thriving men's ministry takes perseverance, but it pays huge dividends in the health of your church and its families.
Effective Men's Ministry
gives you the tools you need to start smart and stay strong. This comprehensive handbook combines the knowledge of experienced pastors and men's leaders with worksheets, exercises and sidebars to take you through the five stages of building a powerful, life-changing men's ministry in your church.
Topics include:
Getting Things Right—the First Time
The Pastor's Role
Building a Leadership Team
Upside-Down Leadership
Getting Men to Jesus
Teaching Men to Pray
Encouraging Vital Relationships
Working with Men Who Fail
Men of All Colors—Unity in Diversity
Becoming Irresistible Husbands
Fathers and Sons
Successful Men's Retreats
Product Details
Format: Paperback
Pages: 256
Size: 6 x 9
ISBN: 9780310236368
Publisher: Zondervan
Pub. Date: August 1, 2001