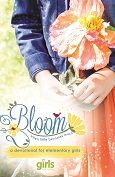 While Supplies Last
Price:

$ 2.99
Quantity pricing available.
Overview
Bloom: A Devotional for Elementary Girls
An 18-day devotional that helps girls explore the concept of planting a seed, growth, and coming to full bloom as they grow in Christ. Based on the parable of the mustard seed, Matthew 13:31-32. Also available for
Teen Girls
.
Product Details
Series:
Bloom: When Little Becomes Much
Format:
paperback
Pages:
24
Size: 5½ x 8½
Publisher: Gospel Publishing House
Pub. Date: July 28, 2017


Additional Resources Sold Separately