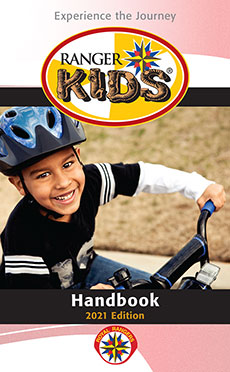 Price:

$ 13.49
Quantity pricing available.
Buy More, Save More
Mix & Match

Buy 10 or more of any combination of Royal Rangers handbooks and pay only $11.49 each!
Overview
Designed for boys and their parents. Provides uniform information and requirements and check- off lists for all Ranger Kids Advancement Trails and achievement awards. Also features a chapter summarizing the story of the Bible—a great evangelistic tool for parents who are not in the church.
Chapters:
Learning about Royal Rangers
The Ranger Kids Advancement Trail
Ranger Kids Achievement Awards
Ranger Kids Uniforms
Your Royal Rangers Outpost
Safety and the Great Outdoors
You and the Bible
Appendix:
Ranger Kids Advancement Logbook
Patch and Pin Placement Guide
Paper, 5¼ x 8½", 128 pages.