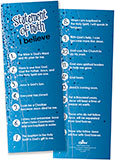 Overview
Pass these fun blue bookmarks out to your whole class and your students will have all 16 points of the Statement of Faith memorized before you know it. Encourage kids to keep them in their Bible and review them each time they open it.
Front Text
The Bible is God's Word and His plan for me.
There is one true God. God the Father, Jesus, and the Holy Spirit are one.
Jesus is God's Son.
Everyone has sinned.
I can be a Christian because Jesus died for me.
I obey and remember Jesus when I take Communion and am baptized in water.
The baptism in the Holy Spirit is God's gift to me.
Back Text
When I am baptized in the Holy Spirit, I will speak in tongues.
With God's help, I can become more like Jesus.
God uses the Church to do His work.
God uses spiritual leaders to help me grow.
God heals.
Jesus is coming soon.
For a thousand years, Jesus will lead a time of peace on earth.
Those who do not follow Jesus will be separated from God forever.
Those who follow Jesus will live with God forever.
Product Details
Packaging:
pack of 25
Size:
2¼ x 6¼
Publisher:
Gospel Publishing House
Pub. Date:
November 4, 2015