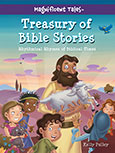 While Supplies Last
On backorder, will ship when available.
Price:

$ 19.99
Overview
Treasury of Bible Stories:Rhythmical Rhymes of Biblical Times
by Kelly Pulley

Children ages 4-8 will be delighted by these rhyming Bible stories pairing spiritual truths with playful illustrations.

Featuring lyrical stories full of lighthearted moments, this colorful collection of Magnificent Tales is perfect for reading out loud. As families read these stories night after night, they will make memories together while learning about the Bible.


Product Details
Series: Magnificent Tales Series
Format: hardcover
Pages: 352
Size: 6¾ x 9
ISBN: 9780781409179
Publisher: David C. Cook
Pub. Date: September 1, 2014


Meet the Author
Kelly Pulley has illustrated dozens of books in The Beginner's Bible series and has authored and illustrated several other children's books, including Ten Unusual Features of Lulu McDunn and The Cycling Wangdoos. He enjoys spending time with his four grown children and his beautiful wife, Vickie, in the Nashville area.