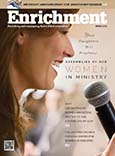 Price:

$ 3.00

MSRP: $7.00
Overview
Enrichment
, Volume 20, Number 2 (Spring 2015)
Enriching and equipping Spirit-filled ministers
On the Day of Pentecost, the apostle Peter quoted the prophet Joel, saying, "Your sons and daughters will prophesy" (Acts 2:17, cf. Joel 2:28). God's promise of an eschatological outpouring of the Holy Spirit has been fulfilled in Jesus Christ. The Holy Spirit calls and empowers both men and women to exercise prophetic ministry in the last days.
Historically, the Assemblies of God has recognized that this Spirit-empowerment opens the doors of credentialed ministry to all qualified applicants, whether men or women. The rise of the so-called New Calvinism, which often teaches that credentialed ministry is open to men only, is causing many young men (and a few young women) to step back from our historic commitment to equality in ministry.
In light of this reality, the spring 2015 issue of
Enrichment
will examine the issue of Assemblies of God women in ministry under the theme, "Your daughters will prophesy." The purpose of this issue is to promote the value of credentialed women ministers within the Assemblies of God (USA) by exploring our history, searching the Scriptures, and evaluating our contemporary practice through the lens of our Pentecostal commitments.
Featured Articles
InDepth
Your Will Prophesy: Assembly of God Women in Ministry
Introduction Women in Ministry: A Called Community—by Judy Rachels
Interview Why Credentialed Women Ministers Matter to the Assemblies of God—by Dr. Beth Grant, Dr. George O. Wood, & Dr. James T. Bradford
Your Daughters Will Prophesy: The New Testament Case for Women in Ministry—by Kari Brodin
What Paul Really Says About Women in Ministry—by George Paul Wood
Called and Chosen: Opening Doors for Women in Ministry—by Clarence St. John
Boldness Without Bitterness—by Jodi Detrick
Partnering for Ministry: Challenges, Opportunities, and Strategies—by Mike & Kerry Clarensau
Mentoring: A Non-Negotiable Toward Empowering Women in Ministry—by Karen Yancey
World-changers: Five Women Who Shaped the Assemblies of God—by Peggy Musgrove
ShopTalk
Managing the Mayhem of Ministry The Skills to Become an Excellent Leader of the Smaller Congregation—by Cal LeMon
On Preaching taking the Shallowness Out of Your Preaching—by Doug Green
The Kingdom Net: Networking for Pastors Institutions Can Network Too—by Joseph Castleberry
In Context The Pharisees in the Book of Acts—by Marc Turnage
Dealing with Doubters Why Are Christians Divided by Denominations?—by Paul Copan
Ministry & Medical Ethics Honoring Elderly Loved Ones: Upholding Dignity as Health Diminshes—by Christina M.H. Powell
Q&A For Ministry Wives Women and Pornography—by Gabriele Rienas
Product Details
Format:
paperback
Pages:
128
Size:
8 x 10¾
ISSN:
1082-1791
Publisher:
The General Council of the Assemblies of God
Pub. Date:
April 2015