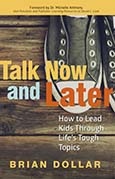 Overview
Talk Now and Later: How to Lead Kids Through Life's Tough Topics
by Brian Dollar
It's a challenge to be a parent today. It's an even greater challenge to be a Christian parent. Brian Dollar provides insight and answers to the questions about how to influence our children for Christ. He reminds us that we are not parenting alone—we can rely on God's wisdom.
When you read
Talk Now and Later
you will feel encouraged and equipped to guide your child through challenging conversations about topics such as: God, death & tragedy, sex, and bullying.
Through real-life stories and practical application, Brian teaches how to build enduring relationships with your children. If you are open and honest with them when they are young, you will have the confidence and courage to tackle those difficult teen conversations. Don't wait until something big happens to talk to your kids—start now!
Product Details
Format:
paperback
Pages:
328
Size:
5½ x 8½
ISBN:
9781680670271
Publisher:
Salubris Resources
Pub. Date:
September 1, 2015
Meet the Author
Brian Dollar
has been a Kids Pastor since 1992. His passion for training and equipping other Kids Ministry Leaders to be effective in their churches has led him to be a featured speaker at many children's pastors' conferences, seminars, camps, and retreats. His wife, Cherith, joined him in ministry in 1998. Together, they have passionately served kids and families in an effort to raise up a generation of lifelong followers of Jesus Christ. He is also the author of
I Blew it
and the creator of
High Voltage Kids Ministry
.
Available in Spanish
Hable ahora y después

What People Are Saying
"Willing to traverse the rugged terrain of what was once considered taboo in Christian parenting, Dollar gives honest answers and insights into the difficult questions that families wrestle with every day."
—Dr. Michelle Anthony, author,
Spiritual Parenting
"This easy-to-explore, quick-reference book with informal language and engaging content gives parents of any background a foundation for having quality conversations with their child.
Talk Now and Later
is a keep-close-at-hand resource full of clear and practical guidelines to follow when talking with children. Brian encourages parents to '[not] ignore events that aren't a big deal to you but are traumatic for your child.'"
—Casey Gibbons, author,
A Girl's Life with God

Table of Contents
Foreword by Dr. Michelle Anthony
Introduction: The Power of Conversation
How to Talk to Your Kids About...
  1. God
  2. Death and Tragedy
  3. Sex
  4. Self-Image
  5. Making Wise Choices
  6. Divorce
  7. Friendships
  8. Money
  9. Bullying
10. Restoring Broken Relationships
Endnotes
Acknowledgements
About the Author