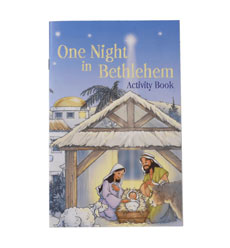 While Supplies Last
On backorder, will ship when available.
Price:

$ 0.99
Overview
Kids can have an encounter with the Savior as they journey to Bethlehem. Fun activities including puzzles, brainteasers, and more show children the hope of Christmas—the Savior has come into the world and gives us new hope and life!

This Activity Book is perfect for ages 7–11. Use it as a gift item for a children's Christmas service, Sunday school, quiet bags in church, or for visitors with young children during the holiday season.
Product Details
Bible Version: English Standard Version (ESV)
Size: 5-1/4" x 8-1/4"
Pages: 16
Manufacturer: CTA, Inc.