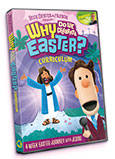 While Supplies Last
Price:

$ 79.99
Quantity pricing available.
Buy More, Save More
Mix & Match
Buy any combination of 3 or more
What's in the Bible?
Church Edition videos (MSRP $79.99) and save 20% on each. Mix & Match combo pricing will not show during checkout but will be reflected on your final invoice.
Overview
Why Do We Celebrate Easter Curriculum
This 4-week Easter journey will walk your children's ministry (grades 1-5) through the life, teaching, death and resurrection of Jesus Christ. It focuses on not only the events surrounding Holy Week and Easter, but on the real reason we celebrate Easter with such joy. Bring the hope and truth of Jesus' amazing journey to the kids in your ministry this Easter season!
Each 60-minute lesson is flexible and includes a video, Bible story, memory verse, and activities. The curriculum features rich take-home activities for families to continue celebrating Easter during the week.
Why Do We Celebrate Easter? includes lessons:
• A Savior is Here (Luke 19:10)
• A Savior Worth Following (Matthew 16:24)
• A Savior who Suffers (1 Peter 3:18)
• A Savior who Lives (Matthew 28:6a)