Browser Security Information
The default security protocol used by certain versions of popular web browsers for submitting credit card information on our webstores is TLS 1.0. TLS 1.0 has been discovered to have vulnerabilities that can make transmission of your sensitive information during checkout unsafe. As a result of these vulnerabilities, we now require browsers that utilize TLS 1.1 or later in order to view and transmit secured information during checkout.

While we know and regret that this update will inconvenience some of our customers, we take seriously our obligation to ensure every measure is taken to protect your account information and financial data from any risks that arise.
What can I do now?
There are options at your disposal to get your system up to speed and prevent any security risks related to outdated TLS. Please see below for some recommendations.
Internet Explorer Security Information
Affects customers using versions of Internet Explorer 10 and earlier:
The most reliable and comprehensive way to address the issue is to upgrade to the latest version of Internet Explorer, which natively runs current TLS.

You can download the latest version of IE at windows.microsoft.com.
If you prefer, you can also adjust the settings on your current version of IE by following the steps below. Please be aware that we cannot predict any side effects on other sites that might occur as a result of modifying the TLS on your current browser, and recommend following option 1 at your earliest convenience.

To adjust your current browser settings, go to "tools" and select "Internet Options". Then, go to the "advanced" tab. On the advanced tab, scroll down the list and check the boxes for "Use TLS 1.1" and "Use TLS 1.2" under the heading "Security". Finally, click "apply".


Firefox Security Information
Affects customers using versions of Firefox 26 and earlier:
Firefox is normally configured to update automatically in the background so that you don't need to worry about keeping up to date. If you still experience problems, you can initiate an update by clicking "help" in the menu bar at the top of the browser window, and select "About Firefox" (see image below). If there are updates available for Firefox, they should be automatically downloaded and installed when the tab loads.

You can also manually download the latest version from the Firefox download page.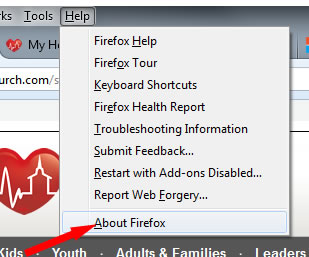 Apple Safari Security Information
Affects customers using versions of Safari found in OS X 10.8 and earlier:
To update Safari, click the apple and select "Software Update". See image below for an example.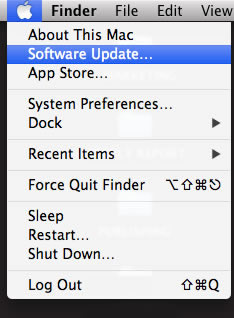 Google Chrome Security Information
Affects customers using versions of Chrome 21 and earlier:
Update your version of Chrome to the latest version by clicking the menu icon in the upper right corner of yoru browser, and select "About Google Chrome" (see image below). Chrome should check for updates when the tab loads. If you still have problems, you can manually download the latest version from the chrome download page.