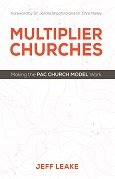 Price:

$ 3.99
Quantity pricing available.
"Could a revival of church growth happen in the United States? Could we see a wave of church planting, campuses, and leadership reproduction? Is it possible to do more in the future than what has been dreamed of in the past? I believe that it is."—Jeff Leake

The journey of planting a church is exciting and rewarding, but it involves more than simply charting a course to launch. Jeff Leake opens the door to a world of options available to pastors and churches for growing and reproducing. Drawing on his experience in implementing these steps, he proposes a shift in thinking to create a climate for a church-planting movement.